... wie zou daar zijn?
There was knocked on the door... who would there be?
Nou.... Zwarte Piet en die had pappa verteld dat we de pietjes moesten volgen....
It was Black Piet and he had told daddy that we had to follow the pietjes.
En op zolder stond een mooie stoomboot vol met cadeautjes!
On the attic was a boat, full with presents!
!
En wat doe je met een zwarte piet van chocola? Opeten natuurlijk! En de cadeautjes? Die moeten dan maar even wachten!
And what should you do with a black piet of chocolat? Eat it, of course! And the presents? They have to wait!
Natuurlijk helpt Emil ook graag anderen met hun cadeautje uitpakken.
Of course, Emil helps unpack the presents of the others.
De grote oplegger met shovels was echt een schot in de roos!
The big truck with shovels was a great pick!
En veel van de andere cadeautjes werden met de oplegger afgeleverd!
And many of the othere presents were delivered with the truck!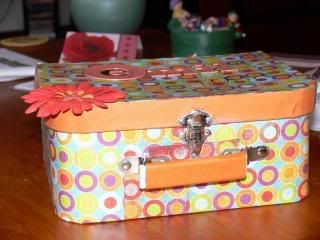 En een scrappiet had voor Emil zijn eigen scrapkoffer gemaakt, vol met spulletjes om te knutselen.
A scrappiet had made for Emil his own scrapsuitcase, filled with things to scrap!
En morgen... morgen komt er een foto van mijn cadeautjes! (Een gescrapt miniboekje van een vakantie uit 1979; een set kerstpapier/ letters/ tags; een lunchbox; 2 chocoladeletters; Heidi Swapp bloemen).
And tomorrow... there will come a picture of my presents! (A scrapped minibook of a vacation in 1979; a set christmaspapers/ letters/ tags; a lunchbox; 2 chocolat letters; Heidi Swapp flowers).