Gisteren zijn we met 13 man (oh nee, vrouw natuurlijk) van het
Scrapdelight forum
naar Heerlijk Winters van
Paper & Pictures
geweest. Een fantastische, inspirerende dag.
** Yesterday we went with 13 men ( o no, women of course) from the
Scrapdelight forum
to Lovely Winters from
Paper & Pictures
. A fantastic, inspiring day!
We hadden 4 workshops. Ik vond ze erg leuk en volgens mij waren we allemaal enthousiast!
Ons eerste project was "There's no place like home", een boekje in een pennendoosje.
(K & C Company)
** We had 4 workshops. I loved them all en I think all of us were enthousiastic!
Our first project was "There's no place like home", a minibook in a pencilbox. (K & C Company)

Ons 2e project was "Hollands Glorie", een sta-kalender (Maya Road) met Hollands papier. Het papier was niet mijn favoriet, maar ik vind de kalender (waar ik een miniboekje van ga maken) erg leuk! Regina kon mijn papier goed gebruiken. Zij heeft echt Nederlandse foto's van afgelopen zomervakantie.
** Our 2e project was "Dutch Glory", a calendar (Maya Road) with Dutch paper. The paper was not my favorite, but I like the calendar (but gonna make it a minibook). Regina can use my paper very good. She has really Dutch pictures from last summerholiday.


Voor degene die mee waren heb ik foto's genomen van alle bladzijdes zodat ze als inspiratie kunnen dienen. Ze staan onderaan deze post.
** For the one who were with us, I took pictures from all pages so they can serve as inspiration. They're at the end of this post.
Voor de lunch werden er prijzen verloot. Scrapdelight viel met 5 prijzen met de neus in de boter!
Jarige Femke won de hoofdprijs: een grote roltas met allemaal spullen erin. Ben benieuwd naar de foto's daarvan!
Zelf won ik ook een prijs! Ik was helemaal verbaasd.... Hieronder mijn prijs.
** Before luch there was a lotery. Scrapdelight was in the prizes and won 5 times!
Birthdaygirl Femke won the big prize: a big rollingbag, with all stuff in it. I'm curieus off the pictures!! I myself also won. I was completty suprised.... Under this my prize.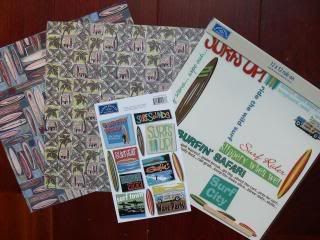 Na de lunch verder met de 4e workshop "Black is the sky, white is the snow", een leuk zwart/ wit boekje. Hier geshowd door Wendy Star (heel goed Wendy!).
** After lunch the 4th workshop "BLack is the sky, white is the snow", a nice black/ white book. Shown here by Wendy Star (Good job Wendy!).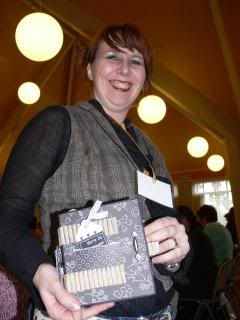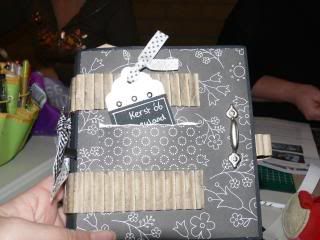 De rest van de foto's weer onderaan!
** More pictures at the end again!
En dan tot slot het laatste project "Baby it's cold outside" (Maya Road), een miniboekje in een soort van sigarettendoosje.
** And then, at last (but not least..) "Baby it's cold outside"(Maya Road), a minibook in a kind of sigarettebox.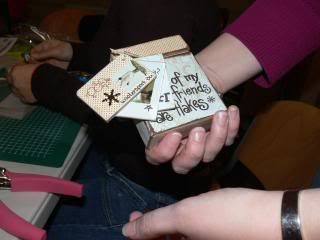 En ook hier de foto's weer onderaan!
** And again, pictures at the end!

Nog een paar foto's van de dag:
** A few pictures of the day:

De foto's van alle projecten per bladzijde:
**The pictures from all the projects per page: