Vanochtend kwam de post. En ja hoor, weer een dikke envelop. Dus ik verwacht rolodexkaartjes van iemand voor de swap die ik host.
Maar nee! Tot mijn grote verrassing zit er een Get well soon-kaart in. Nou ja ik zeg wel kaart, maar miniboekje/ rak is misschien meer op zijn plaats.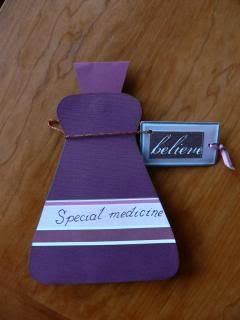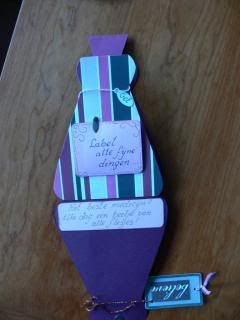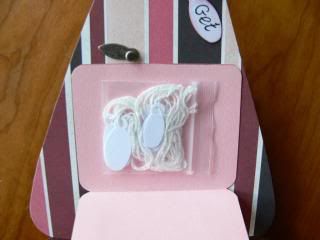 Op elk flesje zit een filefoldertje, met daarin labeltjes, bloemetjes en eyelets.
Zo origineel, met zulke leuke teksten erbij... De tranen liepen over mijn wangen!
Dank je wel
Marga
! Echt ontzettend lief.
-------------------------------------------------------------------------------------------
This morning the mail came. And yes, again a thick envelop. So I expect rolodexcards for the swap I'm hosting.
But no!! At my great suprise it's a Get well soon-card. Well, I say card, but may be a have to say minibook or rak. That suits beter!
On each 'bottle' there is a little filefolder, with in it, labels, flowers and eyelets.
So original, with such great lines o it... The tears walked over my cheeks!
Thanks
Marga
! So incredible sweet.