Mijn pakje van Pam is binnen. Gistermiddag rond een uur of 4 werd het bezorgd. En wauw, wat een fantastisch pak is dat!
**My package from Pam is in! Yesterdayafternoon around 4 it was delivered. And wow, what a fantastic package it is!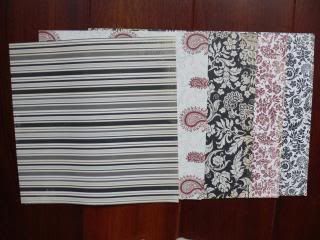 Papier van Foof-a-la (2 van elk)!
Papers from Foof-a-la (2 from each)!
Zakje knopen, lipgloss, Clippers, Tickers (letter stickers in wit en zwart)
Bag of buttons, clippers, tickers (lettersstickers in black and white)
Schattige stempeltjes van Technique Tuesday
Cute little stamps from Technique Tuesday
Een heel leuk minialbumpje voor in je tas
A fun minialbum/ bragalbum for in my purse
Twee dies van Quickutz
Twe dies from Quickutz
Filefolder en stickers, 2 pennen (wit en zilver)
Filefolders and stickers, 2 pens (white and silver)
Ponsjes
Punches

Pam heeft zo goed naar me geluisterd en echt leuke dingen uitgezocht. Ben er ontzettend blij mee.
En het pakketje kwam op een moment dat ik behoorlijk gestressed en down was, dus echt op een super moment!
** Pam did listen to me so good and searched really nice things. I'm so happy with it all.
And the package came on a moment I was very stressed out and feeling down, so on a really good moment. Thanks Pam, big hugs from me!